WELCOME TO THE

COLLECTABLE CARD GAME


These pages contain everything you need to know about the KULT Collectable Card Game based on the horrific modern role-playing setting of the same name. This site includes a compilation of Frequently Asked Questions (FAQs) and other KULT-related information, brought to you by the game designer, Bryan Winter.
Use the links to the left to navigate this site. Clicking the Kult icon will return you to this page.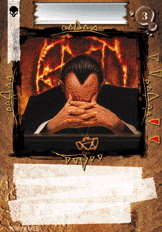 If you have any questions, comments or suggestions about this page or about the KULT CCG, please feel free to e-mail me at bryan@thewinternet.com.